Regular price
Sale price
$28.00 USD
Unit price
per
Sale
Sold out
Turn up the brightness, dim the years! Who needs filters when you've got a serum that makes your skin pop.
An even playing field.
What it's going to tackle:
Dark spots
Post-zit or ingrown marks
Uneven skin tone
Pollution and damaging stuff in the air
Sagging skin
What It Does

Discoloration sucks.

Sunspots, the marks left behind by zits or ingrown hairs... all of it.

This high-impact brightening face serum soaks in instantly to help offset any unevenness that's been stressing you out while protecting your skin from things like pollution – one of the biggest culprits in aging men's skin.
How to Use

Start with dry skin.

Dispense 1-2 pumps into clean hands and rub it in everywhere you just cleansed.

Let it absorb until your skin feels dry again. No need to rinse this time.

Move on to Step 3: Replenishing Moisturizer.
Go-To Ingredients for Guys

3% Vitamin C:

No, not Orange Juice, the kind that brightens up dark spots, post-breakout or ingrown hair marks and helps skin bounce back from too much time in the sun. 

2% Niacinamide:

Uneven skin tone, excess oiliness and enlarged pores never stood a chance at this clinically-proven level. Plus, you get the added benefit of calming redness. 

Aloe Vera:

Helps skin chill out from redness and irritability.

Ferulic Acid: 

A powerful antioxidant that helps defend skin from environmental stressors.

Vegan & Cruelty-Free

 

Full Ingredient List: 

 DI Water (Aqua), Sodium Ascorbyl Phosphate (Vitamin C), Glyceryl Glucoside, Glycerin, Niacinamide, Ethoxydiglycol, Chondrus Crispus extract, Sodium Hyaluronate, Tocopheryl Acetate (Vitamin E), Ceratonia Siliqua(seed) Extract, Glyceryl Polyacrylate, Caprylyl Glycol, Pullulan, Polyacrylate Crosspolymer-6, Ferulic Acid, Carnosine, Heptapeptide-7, Xanthan Gum, Propanediol, Citric acid, Lecithin, Benzyl Alcohol, Benzoic acid, Sorbic acid, Aloe Barbadensis Leaf Powder, Allantoin, Sodium Phytate, Sodium Benzoate, Potassium Sorbate, Fragrance 
Shipping & Returns

You'll get an email upon order, when it's shipped, and when it arrives!

For returns, please contact us from our Connect page or at info@elvylab.com
Share
View full details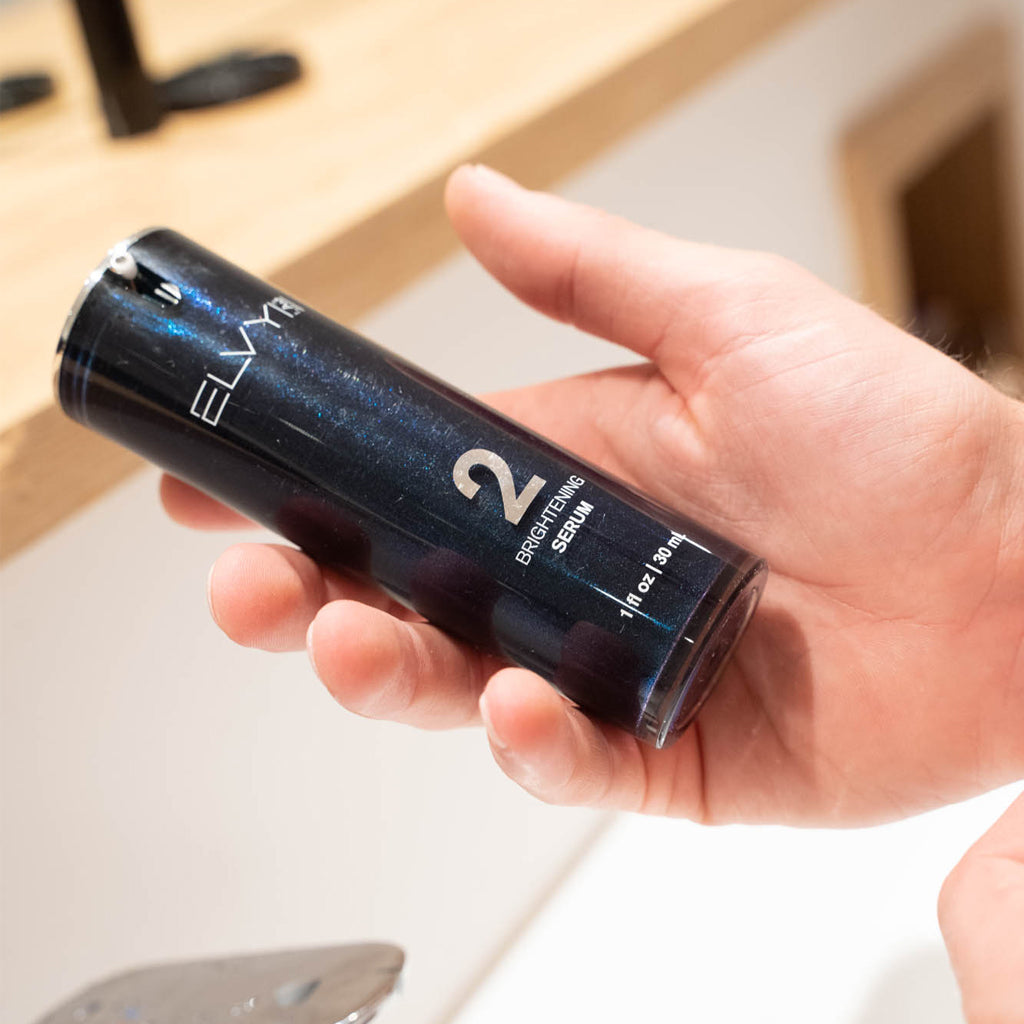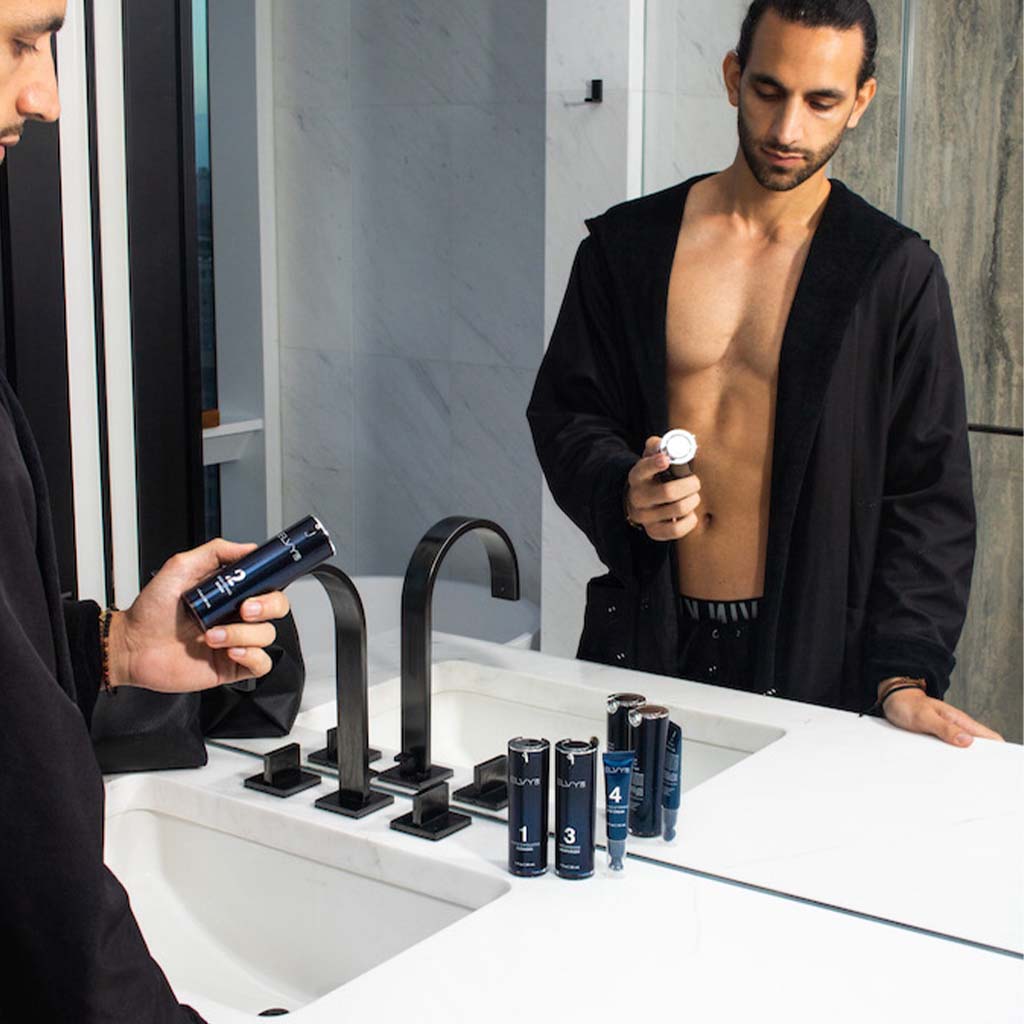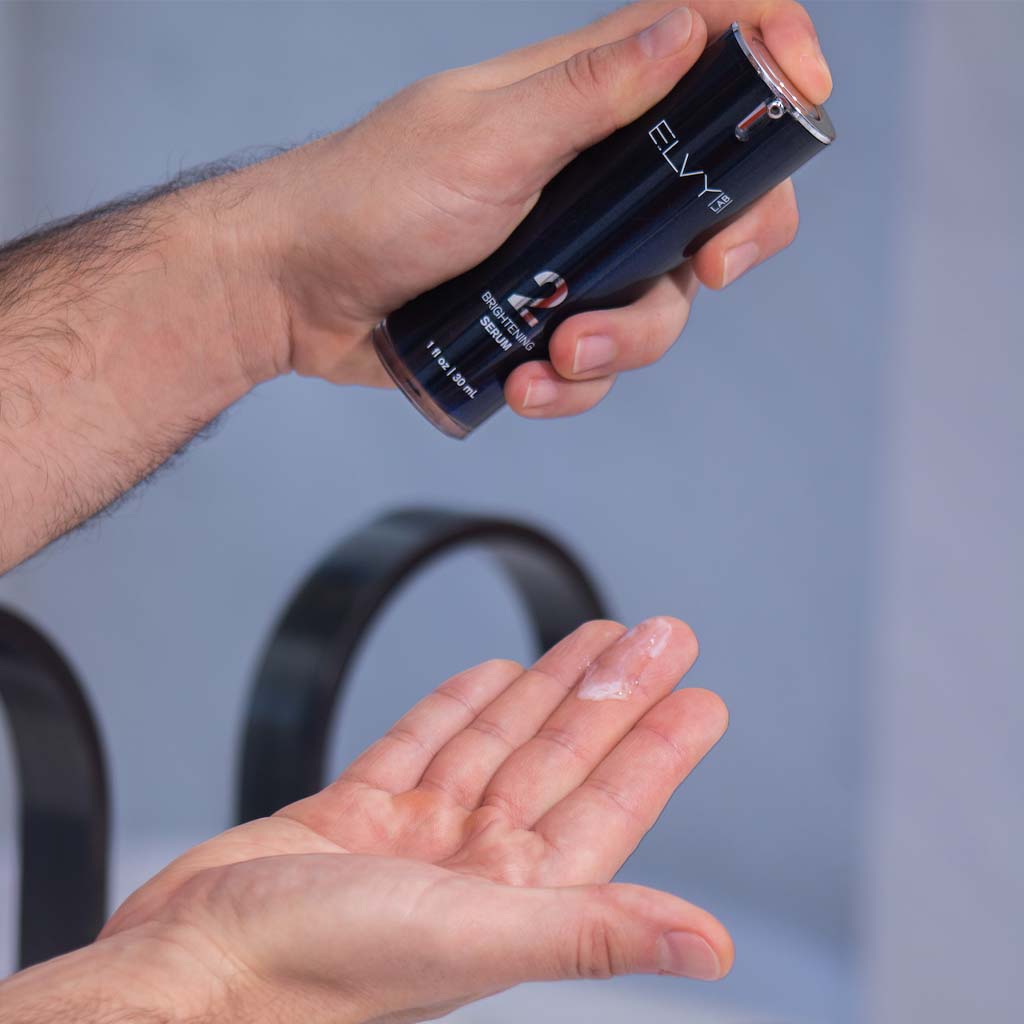 FAQs
If I don't have dark spots, should I still use it?

Yup! It's always easier to prevent than correct, so even if you don't have visible dark spots on the surface, they start below and it's best to stop them in their tracks. Plus, Vitamin C is a powerful antioxidant that helps prevent other signs of skin aging and damage like sagging skin and wrinkles.
What's a serum and why do I need one?

An easy way to think of a serum is as your hard hitting "treatment step". They contain a potent combo of ingredients that tackle some of the harder hitting concerns men face like aging, dark spots and sagging skin. When partnered with a cleanser and moisturizer, you have a well-rounded, results-driven routine.
Can I use this if I have facial hair?

Absolutely - the lightweight formula won't weigh you down or cause greasiness, plus there are some nice hydrators in there to keep your beard smooth and nourished.
Is this going to make me breakout?

Every guy's skin is different but the combination of lightweight, results-driven ingredients won't weigh skin down or cause build up - one of the leading causes of breakouts. On top of that, antioxidant-rich ingredients like Vitamin C and Niacinamide are great for helping avoid environment-related inflammation.
Can I use this for my dark circles?

We don't recommend using this product around the eyes. For that, you can rely on our Firming & Toning Eye Cream which sends dark circles and eye bags packing.
Excellent Product
I have been using Kiehls for many years and made the switch a couple of months ago. This did wonders for my skin, absolutely love the 4 step system. The serum really makes the skin feel fresh. Highly recommend.
The Serum and Eye cream- MAGGGGICCCC
I am a woman and I bought the serum and eye cream while my brother brought the full regimen. I will say this serum is PHENOMENAL. I have done some peels before to get rid of acne scarring and hyperpigmentation and in a just a couple weeks my skin has become sooo CLEAR by using this serum. And I love the application of the eye cream. Its got this plant based retinol and caffeine that helps my tired eyes in the morning! It also goes on a the most perfect base for my eye makeup! I am so in love with this. You guys need to create a women's line ASAP.